Weskate is a professional manufacturer of a high-quality scooter, produce hundreds of thousands of scooter every month, from Toddler Scooters, Kids Kick Scooters, to Stunt Scooters etc. We will give you unexpected surprises! This is a stylish and practical scooter, which is high quality and comfortable, durable and safe, suitable for kids all ages. Come on, get a special birthday present or Christmas gifts for your own or family, friends, and share happiness with them.
Features:
Flashing Wheels- WeSkate scooter for kids uses unique PU wheel, it will light up when your kids start to riding, no battery needed. Brings more fun to kids when they play with it in the dark
Easy to Use for Kids - 3 wheel kids scooters, 2 big front and 1 small back wheels can provide a quiet and smooth ride even on uneven and bumpy road. The deck is wide enough to provide a comfortable and confidently experience.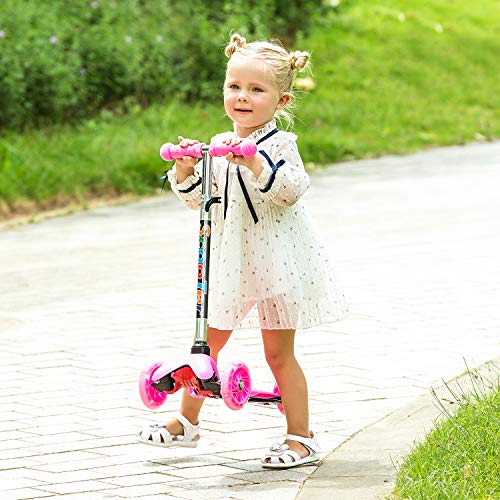 Lean to Steer System- Kids can controlled scooter by leaning, easy to turn left or right, which is better for training their balance and motor skills at an early age.

Easy to Brake-Safety comes first, you don't need to worry about your kids scooting too fast. The rear wheel breaking is easy to use and protects against dangerously sharp turns, giving kids a safe riding when having fun.
Package includes: