Description:
Design for Fun:Tennis Ball Launcher is an automatic fetching machine that can be used by dog and owner or just the dog. The launcher features make independent play easy and fun, all you have to do is plug it in, choose your launching distance and then drop in a 2.5'' max ball.

They say every dog knows how to make a human happy, but not every human knows how to make a dog happy. We love our doggos and puppers, and ideally, we always want to make sure they are as happy as they could be but we don't know what to do.
Playful Tennis Ball Launcher is more than just a toy, for your lovely dog, it's a playmate! Offering your pet-pooch a playmate that will give them unlimited happiness making you the best pet parent you can be!

MORE THAN A GAME - A PLAYMATE: All dogs are ball-crazy and love fetch! They love it so much they want to play for hours and hours. But dog owners don't always have the same high energy levels as some doggos. Here comes the Tennis Ball Launcher, your pet can play their favourite game without you having to make efforts or get tired.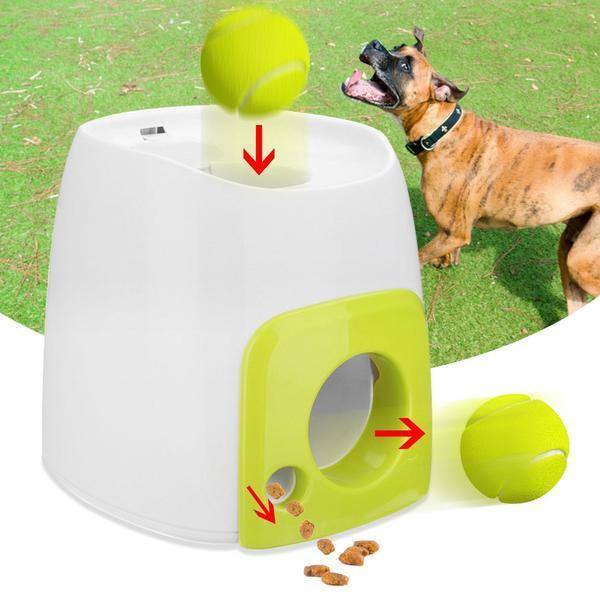 HIGH-QUALITY: We strive to offer top and high-quality products. The Tennis Ball Launcher is made out of high-quality plastic guaranteeing its long-term durability. The game can be played both indoors and outdoors.
AUTOMATIC LAUNCH: Your dog simply drops the ball into the launcher and fetches it once it pops out! You will be amazed by how easy it is and how entertained your dog will be for long hours at a time!
Features:
More than just a game, your pet can play their favourite game without you having to make efforts or get tired.
Adjustable launch distance (10ft, 20ft, 30ft),which can easily be changed with the push of a button.
Comes with 3 tennis balls included
Carefully designed and made to support your playful dog's paws and to strengthen the launch distance
Best of all the tennis ball launch is automatic.
Specification:
Size:16x 16x 20cm/6.3x 6.3x 7.87 in
Weight:0.9kg
Package includes:
1*Tennis Ball Launcher
1*Ball